Saturday September 30th 2023
Quaker Meeting House, 150 Church Road, Watford, WD17 4QB, Hertfordshire, UK
11:00: Barry Curnock 'The Archaeology of Carchemish'. A talk in 2022 and an article in
Review 2023:1 followed
the Hittite King Suppiluliuma I to the fortress of Carchemish on the Euphrates. This agreed with a re-dating
proposed by Immanuel Velikovsky. What does the archaeology of the city say about its dating?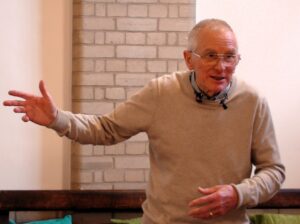 12:15 to 1:15 ‒ Lunch: If you would like a buffet lunch, please inform Phillip Clapham. If you require a vegetarian option,please let him know.
1:30: A video of a talk by Martin Sweatman based on his analysis of the Syrian site of Göbekli Tepe. See page 58 of Review 2023:2 for a description of his book on this subject by Graham Naisbitt: Prehistory Decoded by Martin Sweatman, Troubador Publishing, 2018