SIS Annual General Meeting and Afternoon Spring Meeting
Saturday 4th June 2022
Quaker Meeting House, 150 Church Road, Watford, WD17 4QB, Hertfordshire, UK. (Google Maps)
Doors to Meeting room open at 10:30 am.
11:00 am – AGM.
Nominated and standing for election:

Treasurer: Phillip Clapham
Auditor: David Roth
Council:
Laurence Dixon, Chris Phillips, Ian Tresman, Trevor Palmer, Peter Fairlie-Clarke, David Fairbairn and Michael Caplan. Nominations are invited for the position of Secretary; the Secretary is responsible for the organisation of meetings and the handling of membership. We would welcome further members of Council. Nominations for Secretary or Council Member, proposed by one member and seconded by another, should be lodged with Barry Curnock (address p.1).
Afternoon Spring Meeting 1:30 – 4:15pm
Rupert Holms: 'Star Core Zeus: 2022 Update'. This will cover latest developments relevant to the theory that the sun is part of a binary system with 'star-core Zeus'. This will include new developments in Kuiper belt anomalies, (the search zones for planet-9 and Zeus are actually very close together in the sky and on either side of Orion), new evidence for hot Venus which is nothing to do with runaway greenhouse heating, and new observations from space telescopes.
Tim Hooker: 'Solar Wind & Weather'. For every heat source with which we are familiar, the surrounding temperature reduces as you move further away from the source. How then can we account for the temperature of the Sun's corona increasing as it radiates away from the Sun? To answer this question, we have to understand the electrical properties of the Sun's turbulent plasma atmosphere and the electrically charged solar wind that it radiates throughout the solar system. Do we need to be more concerned about the electrical impact that the solar wind has on the Earth's atmosphere?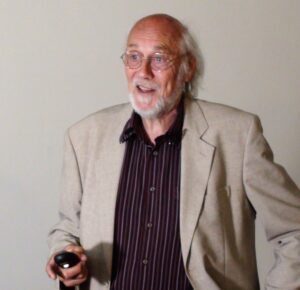 Refreshments 3:40 – 4:10 pm. Doors close 4:30.
Travel: If travelling by car, from junction 19 of the M25 take the A411 south towards Watford (Hempstead Road). Turn left at traffic lights on to Langley Road and then left again into Church Road, where the Meeting House is on the left. Junctions 5 or 6 of the M1 are also close.
A lift can be provided from Watford Junction Railway Station, which is less than a mile from the venue. If you require a lift, please contact Phillip Clapham.